Menu
Pork loin cutlet set & pork filet cutlet set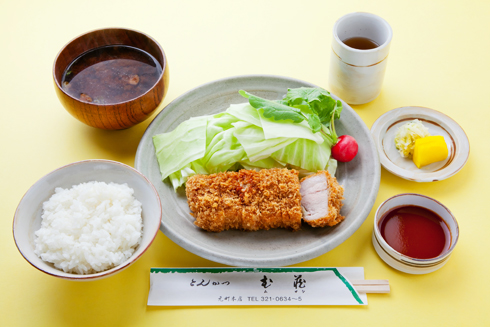 「」Thick pork cutlet slowly deep-fried to perfection. This dish contains two of our staple menu items that are long-time Kobe classics: pork loin, which delivers a rich, juicy flavor as you chew, and pork fillet, which has a light, healthy taste.

Enjoy them piping hot and dipped in our special sauce.
Price

| | |
| --- | --- |
| Set meal | 1,970 yen (including tax) |
| Single item | 1,750 yen (including tax) |
※The picture is of a pork loin cutlet set meal.
Bite-sized pork cutlet set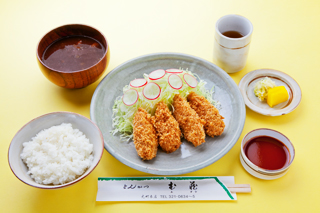 Price

| | |
| --- | --- |
| Set meal | 1,410 yen (including tax) |
| Single item | 1,190 yen (including tax) |
Bite-sized pork cutlet and shrimp and shiitake set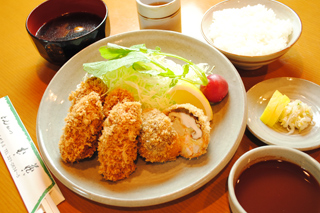 Price

| | |
| --- | --- |
| Set meal | 1,950 yen (including tax) |
| Single item | 1,730 yen (including tax) |
Minced cutlet set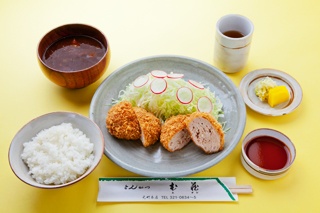 Price

| | |
| --- | --- |
| Set meal | 1,190 yen (including tax) |
| Single item | 970 yen (including tax) |
Minced shrimp cutlet set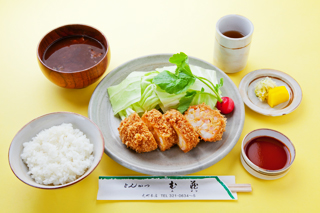 Price

| | |
| --- | --- |
| Set meal | 1,970 yen (including tax) |
| Single item | 1,750 yen (including tax) |
Shrimp and shiitake set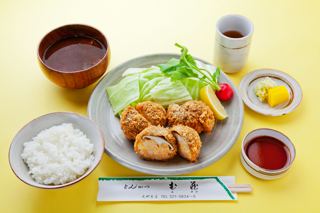 Price

| | |
| --- | --- |
| Set meal | 1,970 yen (including tax) |
| Single item | 1,750 yen (including tax) |
Side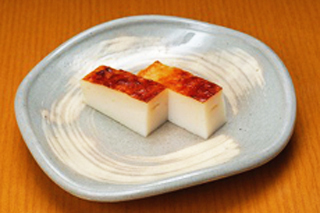 Price

| | |
| --- | --- |
| | 400 yen (including tax) |
Beverage
| | |
| --- | --- |
| Beer (medium) | 570 yen |
| Beer (small) | 420 yen |
| Draft beer (medium) | 570 yen |
| Draft beer (glass) | 310 yen |
| Japanese sake (Kuromatsu Hakushika, 1 go) | 570 yen |
| Cold sake (1 go) | 570 yen |
| KIRIN FREE | 360 yen |
Shochu with soda water (lemon)
470 yen
Orange juice/coke
260 yen
Oolong tea
260 yen
Wine
720 yen
Wheat shochu (Pure Blue)
・With hot water
・With cold water
・On the rocks
・With oolong tea

470 yen
470 yen
470 yen
470 yen
■You can have free refills on the rice, red miso soup and pickles of a set meal.
■You can also take away all the dishes.
(It takes a little time to prepare the take-away dishes.)